Welcome
01/09/2021
Happy New Year! I've got some great news.
I've made a resolution to continue to give you outstanding service (and be better with communications in 2021).
That being said, I want to keep you all in the loop of what is going on at Lowcountry Therapeutic Massage during these difficult times.

1) Due to new protocols for COVID-19, online booking will remain offline. If you would like to book a massage, please call or text me (Caroline) at (843) 338-7882. Please visit us in the new year. We look forward to seeing you!

2) During the second half of 2020, I began a phased approach to re-opening to ensure operations would run smoothly under new protocols and circumstances. These health and safety protocols will continue in 2021.

3) Thank you for your continued support which helped ensure I was not forced to close my doors permanently in 2020. I truly couldn't have done it without my clients. I look forward to servicing your needs in 2021, a time were self-care and stress-reduction are more important than ever before.

4) Although I am doing everything in my power to protect myself and you, my clients, from this virus and deliver a safe means of relaxation/pain reduction, I understand that many of you may choose not to receive massages at this time. Fear not! I am still here for you and willing to help in any way possible.

This brings me to my last and final point in this message:

5) In an effort to reach those unable to receive massage at this time, I have officially started my own line of Self-care products utilizing doTERRA essential oils and other organic ingredients. These will be listed online and available for purchase beginning February 1st, 2021.

Please reach out if you have any questions, comments or concerns!

Stay well. Stay strong.

-Caroline Coleman LMT, PTA, CHC, CPT
_______________________________________________________________________________________________
While I was home for 3 months I started a blog for wellness! Check it out!
www.carolinecolemanwellness.com
05/20/2020
Dear Lowcountry Therapeutic Massage community,
I hope this finds you and your family in good health. While many things have changed, one thing has remained the same: my commitment to your safety and health.
By its very nature, massage and bodywork requires skin-to-skin contact and you should be familiar with the fact that infection control has always been a top priority for my practice. As we navigate life with additional requirements and modify existing measures due to the coronavirus, please help me to support all of my clients by cooperating with some new requirements.
My practice follows Practice Guidelines recommended by the Federation of State Massage Therapy Boards (FSMTB), along with infection control recommendations made by the U.S. Centers for Disease Control and Prevention (CDC) and the Occupational Safety and Health Administration (OSHA).
You may see some changes when it is time for your next appointment. I made these changes to help protect my clients and myself. For example:
I will communicate with you beforehand to obtain updates to your health information and ask you specifically about your potential exposure to COVID-19.
When you arrive at the office, I'll ask that you wait in your vehicle until I text you or call you to come in. This ensures that we don't have too many people in the reception area at one time.
I will greet you at the door and use a no touch thermal temperature screening to confirm that you don't have a fever.
I'll ask you if you have developed any symptoms of illness since we spoke on the phone. If you feel ill on the day of your session, there is no penalty for canceling your appointment. Massage is not advised if you have any symptoms of illness.
Please bring a face mask to use while you are in the building, and during your massage.
I will ask you to sign an informed consent form that states, "I understand that close contact with people increases the risk of infection from COVID-19. By signing this form, I acknowledge that I am aware of the risks involved and give consent to receive massage from this practitioner."
There is a hand-hygiene station that I will ask you to use when you enter the office. You will also find hand sanitizer in the reception area and other places in the office for you to use as needed.
I look forward to seeing you again and am happy to answer any questions you may have about the steps I take to keep you, and every client, safe in my practice. To make an appointment, please call or text me at 843-338-7882. My practice is tentatively scheduled to open on Saturday, June, 6th.
Thank you for being my client. I value your trust and loyalty and look forward to welcoming you back to a safe, therapeutic touch environment.
-Caroline
______________________________________________________________________________________________________________
03/17/2020
As an empath, my heart goes out to all of those who have been or could be seriously affected by the COVID-19 virus. Due to the nature of my work as a Licensed Massage Therapist and the Code of Ethics I swore to uphold as a professional, I feel it is my duty to do the most I can to aid in the effort of preventing the spread in my community. Unfortunately, this means closing my doors temporarily.
This was a difficult decision to make and was not made in haste or fear.
At this time it is of the utmost importance that we all think about those who may not be as fortunate as ourselves whether that be in wealth or health. This situation could be a lot worse than it is…let's do what we can to help our neighbors. Community is unity.
This is a scary time for many small businesses as well as those who work in the service industry. Please consider ordering take-out and purchasing gift-certificates from local businesses. I am currently offering e-gift certificates at a discounted rate on my website for the time that I am closed.
Any support means a lot. If you do not feel called to purchase a gift certificate, please consider taking a minute or two to sign this petition that could help many LMT's just like me.
_____________________________________________________________________________________________________________
I'm glad you're here.
My name is Caroline and I have been living my passion for a little over three years now helping individuals just like you live a better life. Recently, I graduated from Technical College of the Lowcountry with an Associate of Science as a Physical Therapist Assistant. When I am not at my Wellness Practice, you will find me two-to-three days a week at Cornerstone Physical Therapy and Wellness, an outpatient rehabilitation clinic focused on providing excellent one-on-one physical therapy services located by Hampton Hall in Bluffton at the corner of Buckwalter and Bluffton Parkways.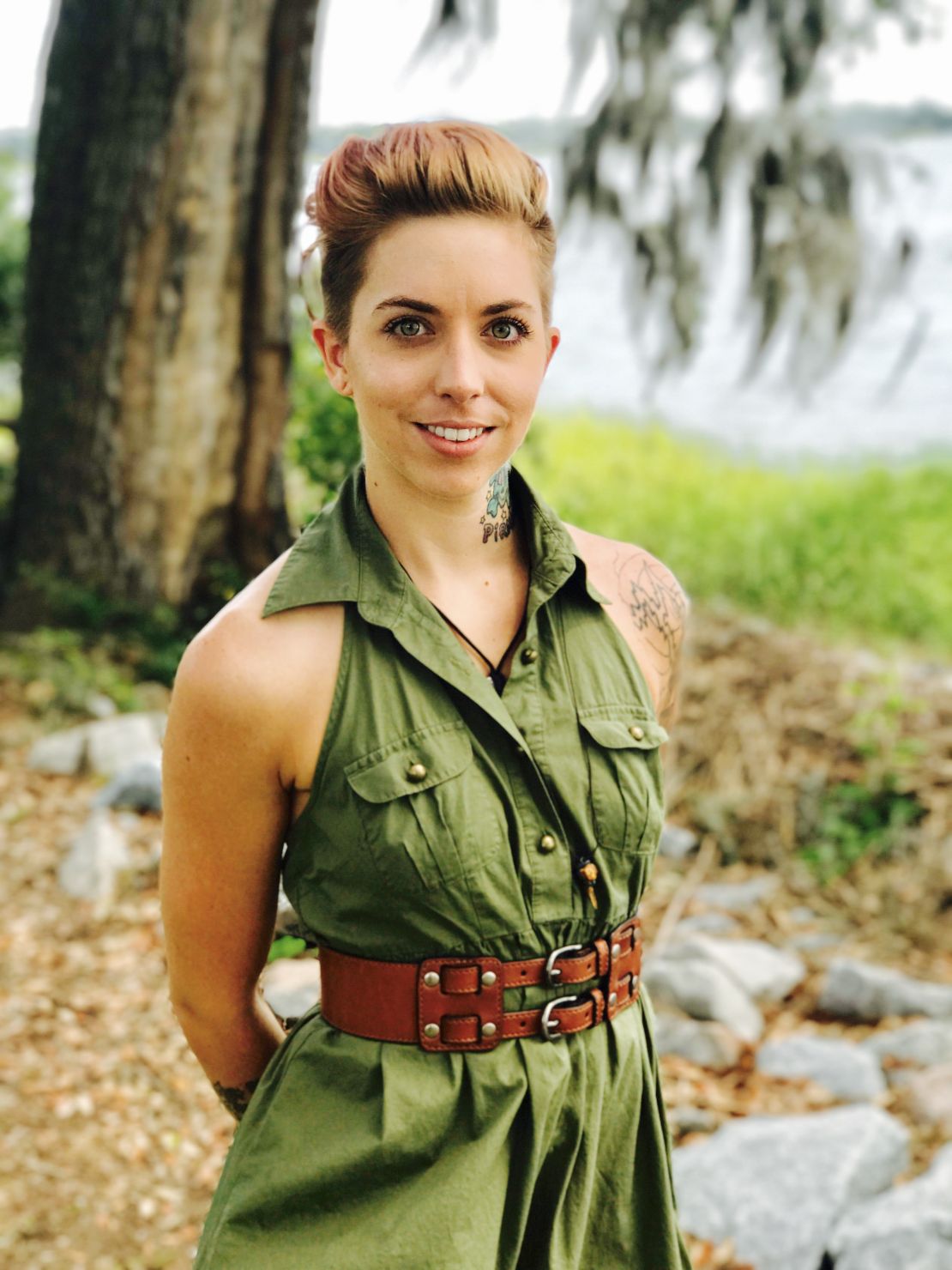 I was born on Hilton Head Island (yes, I'm a local! ) into an active sailing family of five. From the time I was very young I have always been a very empathetic and compassionate person. In my youth this seemed to be more of a curse than a gift and I struggled. In 2014, I had hit rock bottom and accepted an offer to move home and go back to school. While I was in Massage Therapy school, I made a realization that has saved life: My compassion is my purpose.
When I am not assisting others at one of my occupations you might find me fishing with my boyfriend, hiking, working out or hanging out with my nine year old dog, Goose. She rescued me when she was just nine months old and sometimes accompanies me at my office, taking her job as therapy dog very seriously. If a "professional student" was an occupation, I would be one. I love learning and furthering my skill set and understanding of the human body and just science in general. Some of the areas that I am furthering my studies are Fascial Therapy, Instrument Assisted Soft Tissue Mobilization(IASTM) and Manual Lymphatic Drainage.
I am trained in a variety of modalities and you can click on the "Services & Rates" page to learn more about the various techniques I use in my work.Also, if you'd like to set up an appointment with me, click on "Online Scheduling" or call or text me at (843) 338-7882. I will do my best to get back with you within 24 hours to confirm the details of your appointment.
Again, I am so glad you took the initiative to check out my website and I hope to meet you soon. If you have any questions or are not quite sure if massage or physical therapy is right for you, feel free to contact me!
Thanks for visiting,
Caroline Coleman, Owner/LMT, PTA